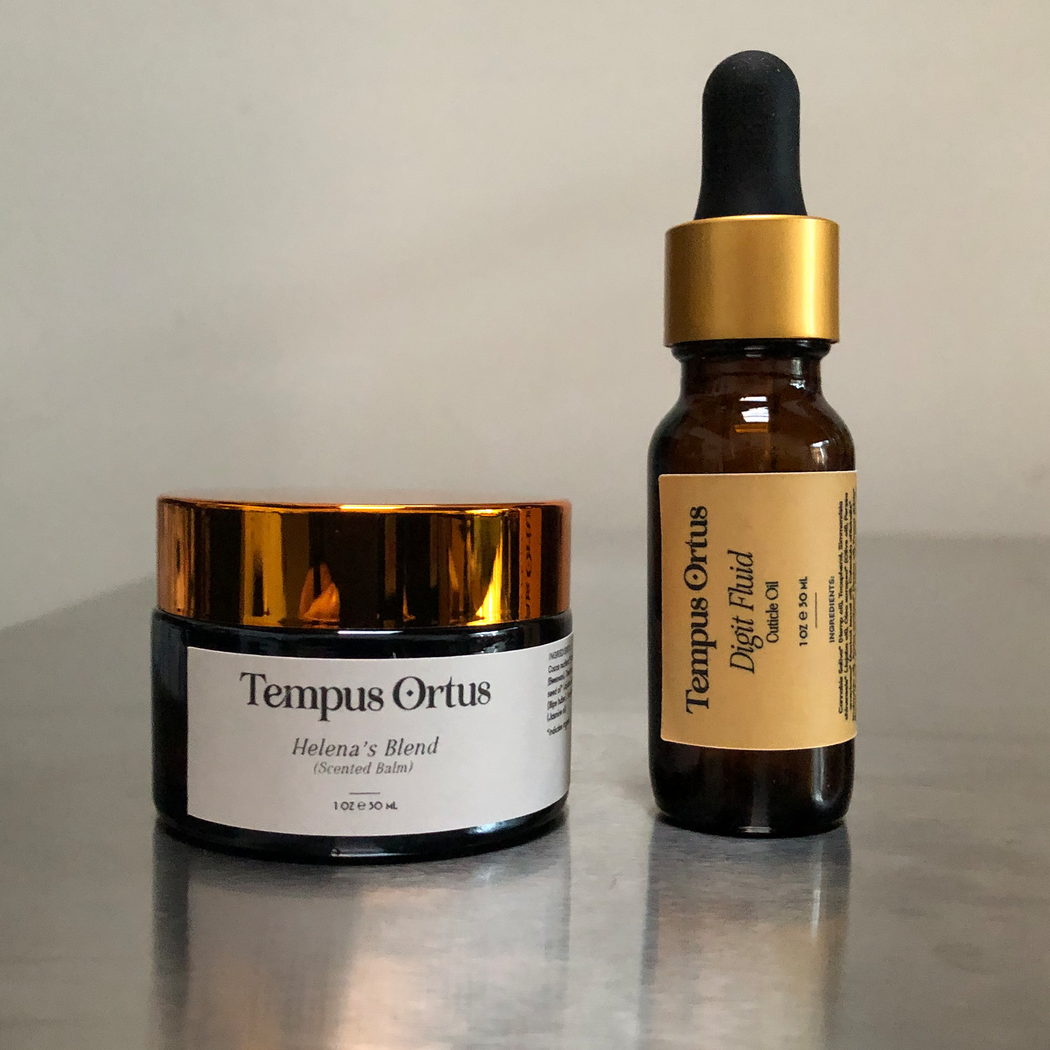 MINI-Duo- Helena's Blend- Scented Balm & Cuticle oil
Helena's Blend Balm -
Our founder was making balm for herself and was talking about it to her guest, telling her guest, everyone loves my lotion, but my hands crack and bleed so I have to use balm, but I don't make it to sell because I think it's too thick for people. Helena then asked if she could try some, but is it scented? Our founder said I would love to share it with you, and I will make you your own custom scent. Helena's blend was born. Insanely high quality Critically extracted Jasmine is the scent. 
Ingredients-

Cocos nucifera* ( Coconut oil ), Mangifera indica* ( Mango butter ), Cera Alba ( Beeswax ), Theobroma grandiflorum* ( Cupuacu butter ), Simmondsia Chinensis seed oil* ( Jojoba oil ), Rosa canina fruit oil* ( Rosehip oil ), Shorea Stenoptera ( Illipe butter ), Sambucus nigra fruit extract, Tocopherol, Jasminum official oil ( Jasmine oil )
*indicates organic
12 month shelf life

Cuticle Oil- Digit Fluid 
Nutrition for your nails, comprised of fast absorbing omega rich oils and enlivening essential oils. Use twice a day on all your digits, hands and feet for best results. Use glass dropper to place one drop at the base of each nail bed and gently with circular motion rub into your cuticles. This is the same exact formula as last years Alice Lorraine Holistic Haircare cuticle oil, just a new look.



Ingredients-
Cannabis Sativa* ( Hemp oil ), Tocopherol, Simmondsia chinenesis* ( Jojoba oil ), Olea europea* ( Olive oil ), Persea americana* ( Apricot kernel oil ), Calendula officinalis* ( Calendula oil ), Arnica montana* ( Arnica oil ), Prunus dulcis* ( Sweet almond oil ), Salvia sclarea* ( Clary sage EO ), Canaga odorata* ( Ylang Ylang EO ), Pelargonium spp.* ( Rose Geranium EO ), Boswellia carteri* ( Frakincense EO ), Helchrysum italiucum* ( Helichrysum EO)
*indicates organic

*These statements have not been evaluated by the FDA. This product does not intend to treat, diagnose,cure, or prevent any disease. If you are pregnant, breastfeeding, or on any medications, please consult with a qualified health professional before beginning any new herbal products.